Eucalyptian Flat Sheet Base
The world's first probiotic flat sheet that 'eats' sleep-disrupting allergens and skin irritants on your body.
100% Sneeze & Itch Free Sleep
Feels Like Heaven On Skin
100% NO-RISK MONEY BACK GUARANTEE
Get Millions of Microscopic Fighters to Protect Your Sleep from Allergies Every Night
What it is: The First Ever Probiotic sheet That 'Eats' Allergens While You Sleep
Swiss HeiQ probiotic finish for sleep that feels as pristine as the Swiss Alps
Luxuriously comfortable blend of Egyptian cotton & TENCEL™ (vegan silk)
Designed in Estonia, made in Portugal up to the highest EU standards
Technical Fabric Engineered to Do More
Zaps Dust Mites
No more sleeping w/ millions of dust mites (and their poop).
Naturally breathable. Wicks moisture to keep you cool and sweat-free all night long.
pure egyptian cotton is odorless & eucalyptus is naturally deodorizing.
It's Time to Stop Sleeping On Literal Sh*t.
Every night you shed about a teaspoon of dead skin. And every night millions of dust mites are feasting on it and leaving their inflammatory poo behind – that then you inhale and rub your face on.
The result? Coughing, sneezing, itchy throat, inflamed skin and worsened conditions like eczema—not to mention a (literally) cr*ppy sleep quality.
Get a Top Sheet That Eats Dust Mites for Dinner
The Swiss probiotic technology actively eliminates allergens like dust mites and pet dander for a pristine sleep environment. Our solution is a 3 Step
100% biobased
, patent pending technology to keep your sheets clean, fresh and odorless all night long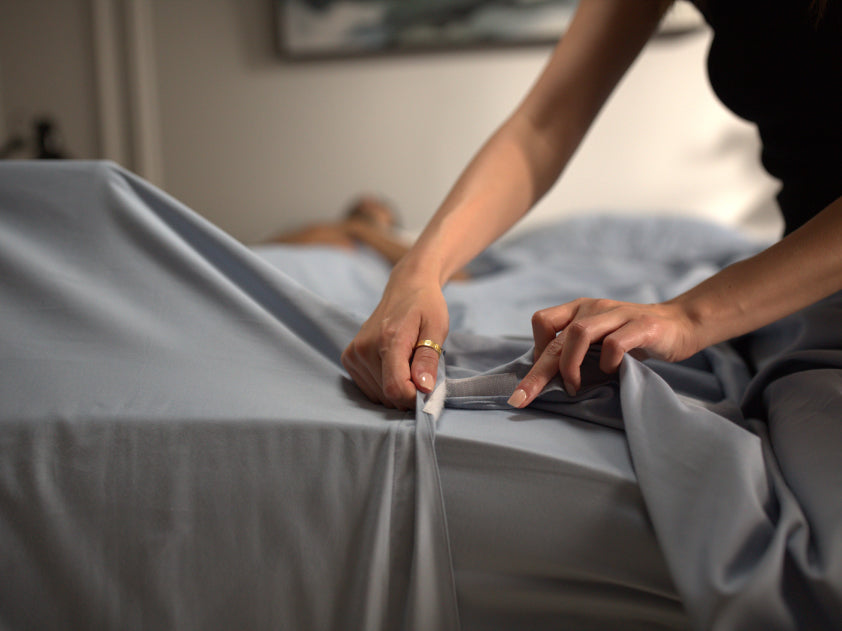 Results Backed by Independent Labs in Germany
It's Like Breathing in the Purest Alpine Air
Now you can say goodbye to those pesky millions of dust mites! Wrap yourself in a blend of soft eucalyptus silk & premium Egyptian cotton – and wake up feeling as fresh and pristine as a morning in the Swiss Alps.
No More Random Acne Breakouts
Fed up with unexplainable rashes and breakouts? It might be the inflammatory dust mite poop.
The Eucalyptian actively targets dust mites and kicks them and their icky business to the curb. (Forget about the toxic "Silver" finishes or ineffective silk).
Good for Your Health, Good for the Planet
Healthy sleep that's planet-friendly, too? You bet. Millions of silkworms die in the process of making real silk. Our Lenzing TENCEL™ vegan silk fibers are sourced from wood pulp from sustainably harvested trees to give you guilt-free comfort.
90-Night Money Back Guarantee
We take great pride in delivering quality products. Try the Probiotic Sheets for 90 nights. If you don't love them, get your money back.
Try it Risk-Free
90 Night 'Sneeze Free' Guarantee
Try the Probiotic line for 90 nights. Don't like it? Get a 100% refund. No questions.
Your order is dispatched the Next Day
Don't like it? Return it for free, no questions asked.
Frequently Ask Questions!
Wait, Isn't Having More Bacteria On My Flat Sheet Gross?
Not at all! The probiotics on the EDASI Eucalyptian Probiotic sheets are beneficial, good bacteria that help to eliminate harmful allergens and create a healthy, clean sleep environment.
Won't All the Probiotics Go Away After Washing It?
Nope. The probiotics are infused into the fabric of the pillowcase and are lab-tested to not wash away after dozens of washes and more. We designed the EDASI Eucalyptian Probiotic pillowcase to maintain its effectiveness over time.
It's Naturally antibacterial, TENCEL Eucalyptus prevents the growth of bacteria to help banish unwanted breakouts.
How often should I wash it?

We recommend washing the pillowcase every 1-2 weeks to maintain its effectiveness and hygiene. However, it is designed to withstand multiple washes without compromising its quality or effectiveness.
What is the thread count?

Crafted with a Single Ply technique, the Probiotics are carefully constructed with a 315-thread-count to help give a premium, silky-soft and breathable feeling.

Beware! Many brands selling sheets claiming a 1,000+ thread count are bending the truth and simply cutting the threads in their product to increase their thread count artificially. We stand behind our guarantee. Try the Probiotic line for 30 nights, and if you don't like them, send them back to us for a refund. No questions asked.
Which Materials Is This Flat Sheet Made From?
The probiotic line is a blend of 60% Egyptian Cotton / 40% Tencel, providing a soft, breathable, and luxurious sleep experience.
We offer a 90-day money-back guarantee, so if you are not completely satisfied with your purchase, you can return it for a full refund.
Where is the Probiotic manufactured?
Guimaraes, Portugal with imported yarns & technology from the finest places in the world.

Our TENCEL™ Lyocell fibers are manufactured by Lenzing Fibers milled from Austria, so we guarantee you the best of quality held up to the highest EU standards.
Grown in the valley of the Nile River Delta, the Egyptian Giza long-staple cotton fibers we use are considered to be the finest, most luxurious cotton in the world.

The Swiss Allergen Tech Probiotic finish is imported from Switzerland.
Why Should I Choose It Over Other Flat Sheets?
The EDASI Eucalyptian Probiotic sheets are a unique blend of premium Egyptian cotton and TENCEL silk that offers a luxurious and breathable sleep experience.
Unlike other sheets, it is infused with Swiss probiotic technology that ACTIVELY zaps allergens and promotes better sleep quality and skin health.
Plus, the eucalyptus used is a vegan product made with sustainable materials that are gentle on both you and the environment.
How Can I Get In Touch With You
If you have any other questions, feel free to email us hello@edasi.co to reach our friendly customer support team.